Around December 2017, Google sent me a free Acer Chromebook 11 N7 (C731). Well, technically they sent me a free Chromebook cover first, with the promise of a Chromebook to follow and only caveat (or request) being my time to listen to their Google Cloud Platform sales pitch.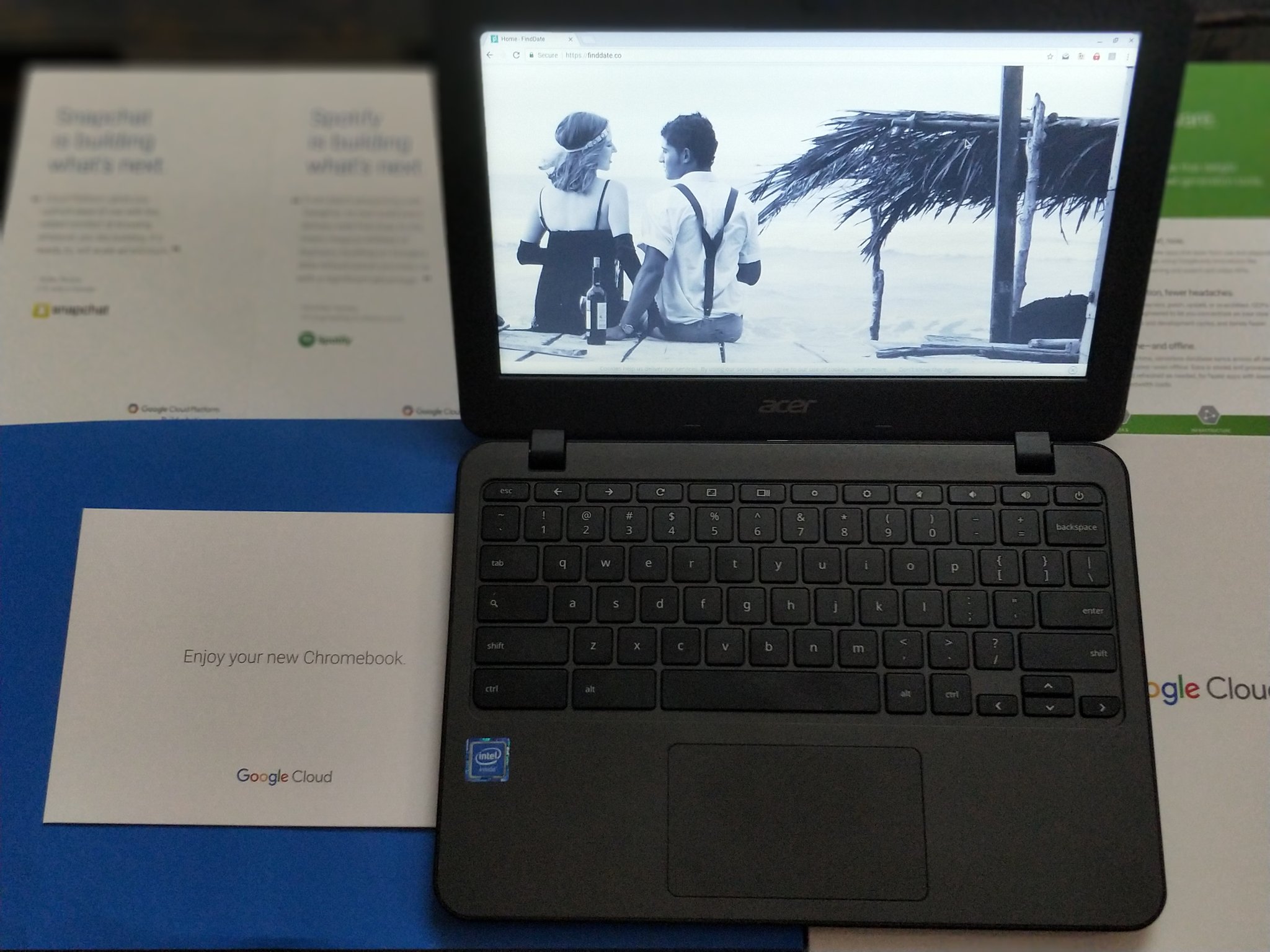 Acer Chromebook 11 N7 C731 sent to me along with Google cloud marketing bits. Screen shows my product page(set by me).
Of course, the other caveat may be receiving a NSA bugged computer; but hey who doesn't want a free computer? Especially when decent Chromebooks weren't even available in my country at that point and I was pestering my friends returning from USA to get one for me among dozen other laptops, smartphones they were bringing home for their dad, uncle, office janitor, neighbor's cat etc.
I wasn't the only 'chosen one' for the elusive Google's free Chromebook distribution scheme, there were reports of this activity around the world.
I knew this had to do with my startup, as they sent it to my office address. Our flagship product FindDate was growing well, used AWS for infrastructure and was accelerated by Facebook.
But how did Google know about our usage of AWS? I'm not sure, we were running our product in stealth. Well, we did use GSuite for our email … and I'll stop with that; perhaps this had nothing to do with our AWS usage.
The focus of this post is the Acer Chromebook 11 N7 (C731) and the ChromeOS ecosystem as I've had plenty of time with it to write a brief review.
Hardware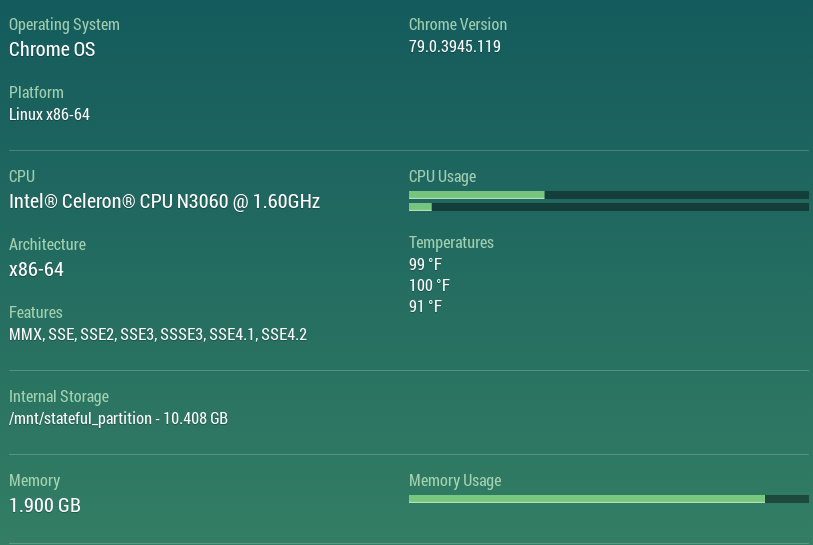 CPU can max upto 2.58 GHz.
This particular Chromebook from Acer is built like a beast, in fact it has Military Grade Certification(MIL-STD-810G) to be thrown by a teenage kid due to Minecraft related rage fit or a grandma washing it without having to worry about selling a kidney to repair. Toughbook for ~$200? Sign me up, well actually $0 in my case and yes I'll rub that on your face through out this piece.
The power adapter went kaput within few days when I plugged the Chromebook in it overnight, it seems to be a case of manufacturing defect with that particular model of the adapter and Acer service promptly replaced it with newer adapter on-site! (Kudos to Acer for a prompt service at a Tier 2 city, for a device not even available in that country).
WiFi transmission quality was a joke, in spite of advertising as having fast dual-band 2x2 MIMO 802.11ac Wi-Fi. So, I promptly ordered a USB 3.0 Gigabit Ethernet.
tp-link USB 3.0 3-Port Hub & Gigabit Ethernet Adapter (Image credit: tp-link).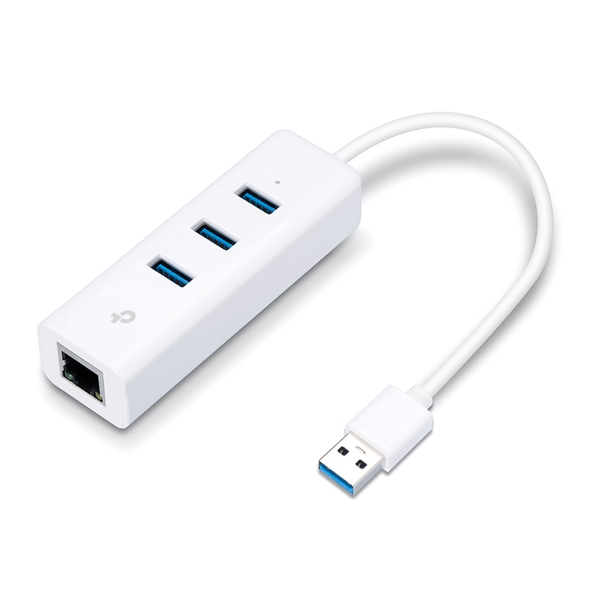 This was likely a firmware issue with the WiFi chipset of intel N3060, as WiFi improved overtime with future updates.
Internet bandwidth test on ChromeOS WiFi.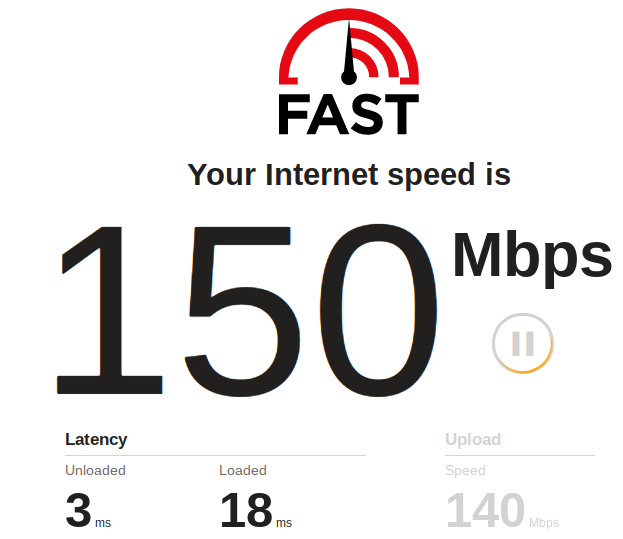 Internet bandwidth test on ChromeOS USB 3.0 Ethernet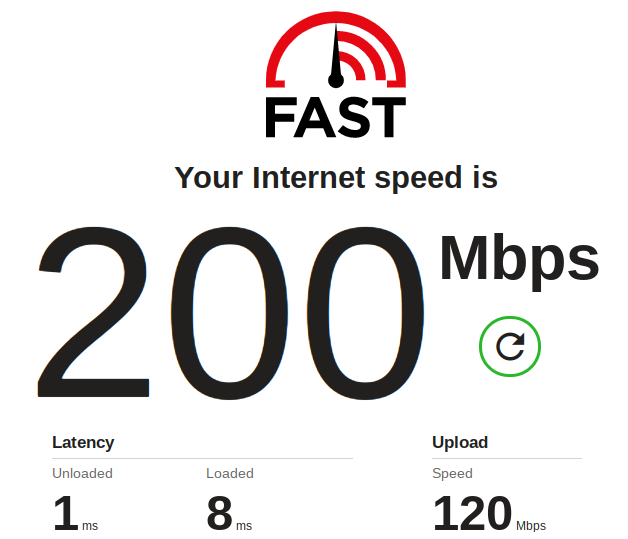 Apart from these, the Laptop? Netbook? Chromebook has an average display, decent keyboard/trackpad, two USB 3.0 type A ports and a SDXC slot.
Performance
Performance is what is to be expected of a dual core, fan-less, Single board computer with 2GB RAM albeit ChromeOS is optimised than many of the ARM based single board computers (of course this Chromebook costs 2x-3x than most common ARM based SBCs).
ChromeOS
When I first received this Chromebook, it was bland, like one of those projects Google might kill in 2 years. But, later with Android, Linux container, UI Improvements; the usability of ChromeOS has improved multifold.
Security
If the data siphoned off by the Google itself wasn't part of your threat matrix, then security features which comes along with ChromeOS can be one of it's main value.
ChromeOS support varies between 6 years for older devices such as mine and minimum of 8 years for devices manufactured since 2020. But on a fine day last year, I was greeted with 'End of life' warning due to a bug in the developer channel of the ChromeOS and was later resolved.
Since it's basically a regularly updated browser on top of a regularly updated hardened Linux kernel, one can be rest assured when their high school kid clicks on the 'Singles waiting to meet you' Ad (or) old parent clicking on the 'Your computer has coronavirus, install this to clean it' type of Ads.
Update notifications are almost a daily affair.

But, nothing can save them from clicking Google Search Ads masquerading as the search results though.
Windowing system
One of the first features which impressed me with ChromeOS was its windowing system. With the availability of Android and Linux apps the windowing system enhances the productivity of the ChromeOS users.
Basically, windows from the browser, app, console can be arranged in any layout we want it to be. Windows snap together automatically and we can adjust the divider however we wish.
Plug in a larger display via HDMI and the productivity can be scaled instantaneously; of course limited by the system memory.
I was told by a Windows user on HN that Windows 10 has made major improvements towards how the windows are stacked as well. I haven't used it much, but with my daily usage experience from macOS and Linux; ChromeOS windowing system seems to be better especially considering the different environment of apps it supports now.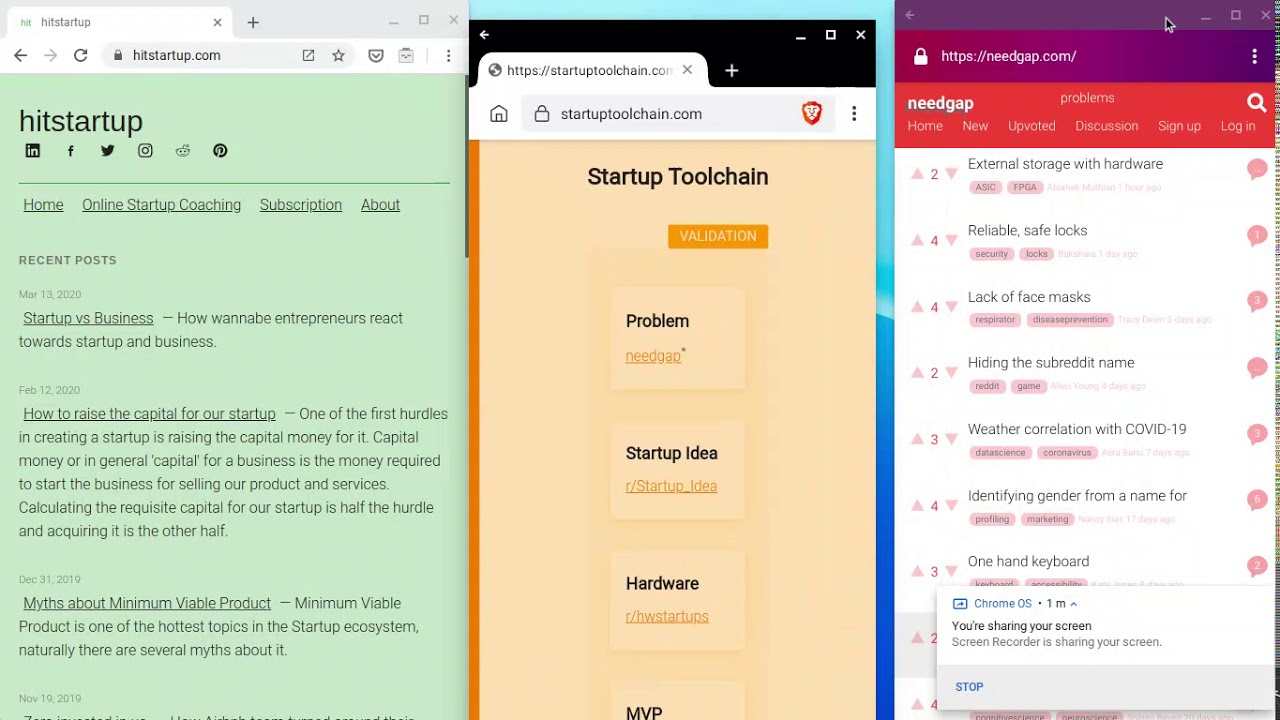 Demostration of ChromeOS Windowing system, system is bit sluggish due to screen recording.
Android
Android support to my Chromebook via container came after several months since I got the device. After several updates, most android apps can be run fine with some caveats.
Apps which uses several threads, seems to halt once moved out of focus. This could be a limitation with my system memory and may not be the case with Chromebooks with larger RAM such as Pixelbook.

ChromeOS storage access in Android and vice-versa was limited at first and later several improvements were made. Now, ChromeOS shows Android files and Linux files. Android can detect external USB drives, SD card from ChromeOS.

But, how that storage API is accessed depends upon the apps themselves. VLC can detect storage devices seamlessly, Kodi doesn't seem to do it OOB, OpenKeychain crashes when trying to import key from external storage and had to by done via Solid Explorer. So, yes the mileage of android apps on ChromeOS still vary according to the individual apps themselves, but just the availability of Playstore has made ChromeOS one of the operating systems with a large app ecosystem.
ChromeOS storage access.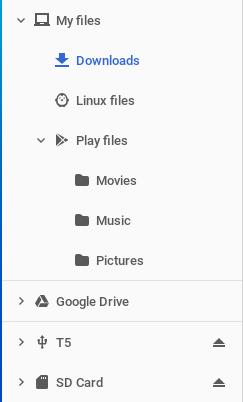 Android storage settings in ChromeOS.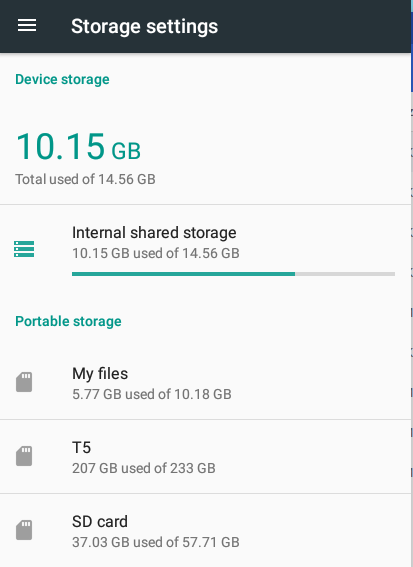 Oh yeah, Chrome android browser doesn't install via Playstore on Android in ChromeOS.
Linux
Linux container support named Crostini came to my Chromebook in late 2018 after much deliberation. Initially it was told that Braswell architecture based Chromebooks such as mine wouldn't get Crostini, but ChromiumOS(open-source branch of ChromeOS) team changed its position and later added support to much of the older Chromebooks.
Terminal is a bash shell and there is APT package manager. Understanding that the desktop environment is ChromeOS on Wayland in a Linux container should be enough to get most Linux applications working here.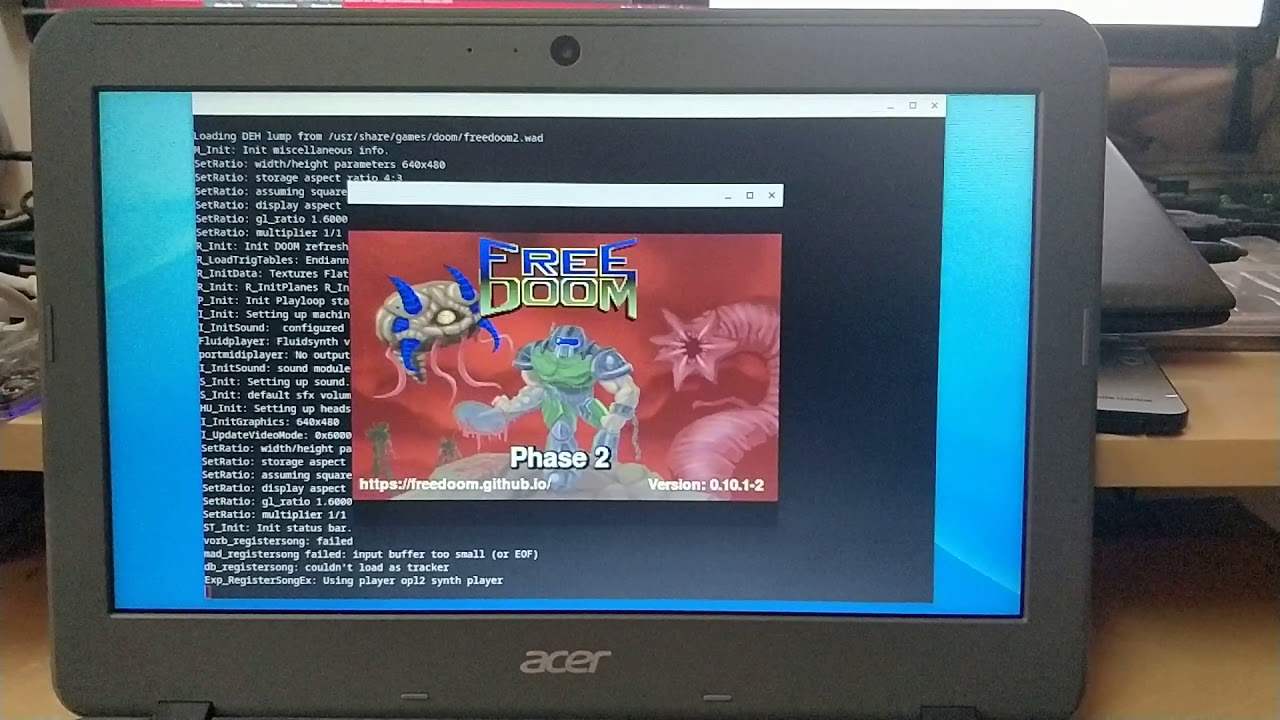 Check out Doom (1993) via Crostini. Apologies for the shaky camera, screen-recorder couldn't record 3D output from crostini.
I wish I could rant more about Crostini, but honestly I only used it to SSH into proper Linux machines. That doesn't there aren't any rants about Crostini.
Other stuff
With newer updates there are greater integrations with physical Android Smartphone(unlock), Google Assistant, SMS integration with Messages app etc.; None of which I use.
GalliumOS
Like any Nerd with self-esteem, I went on to install alternate Operating System even if it didn't make any productivity sense, could void warranty, could brick the device, for the rush in doing something which is not 'manufacturer approved'.
GalliumOS is surprisingly well built Xubuntu based Linux Operating System for Chromebooks. It required custom firmware with SeaBios to boot GalliumOS from a USB flash drive.
Initially there was a bug in the audio drivers which could have damaged the speakers on Braswell devices, it was fixed in my version (or) my audio chipset was unaffected.
I used GalliumOS for several months mainly as a x86 based Single Board Computer, incidentally Chromebooks such as mine are the cheapest available x86 based SBCs if we ignore occasional SBC from failed startups.
Why am I stressing on x86 based SBCs when there are plenty of options with ARM SBCs, you may ask; Unfortunately browsing suck in all of them; in spite of Chromium being optimised by Raspberry Pi team a 4GB RAM based ARM SBC pales in comparison to 4 year old fan-less intel x86 hardware based Chromebook when it comes to browser performance.
My browsing requirements with SBC is not actual multi-tab browsing, but I used GalliumOS on my Chromebook to run Puppeteer based tests for hours. So, this could be one of the few specific use cases where x86 SBC can perform better than an ARM, for all other activities I use ARM based SBCs regularly(more on that in future posts).
Firefox, Chromium on GalliumOS seemed bit sluggish, when compared to native Chrome browser on ChromeOS in this Chromebook.
Did I mention custom firmware? So one day I pressed spacebar while booting instead of Ctrl+L and the firmware was restored to default, loosing access to GalliumOS and unceremoniously returning to fresh ChromeOS.
Browser benchmarks comparing with ARM
Here are some benchmarks run on ChromeOS 80.0.3987.137 and Nvidia Jetson Nano running Chromium 79.0.3945.130 on Ubuntu 18.04 LTS. Jetson Nano has 4GB LPDDR4 memory and Chromebook as 2GB LPDDR3. Both were powered in during tests to avoid throttling.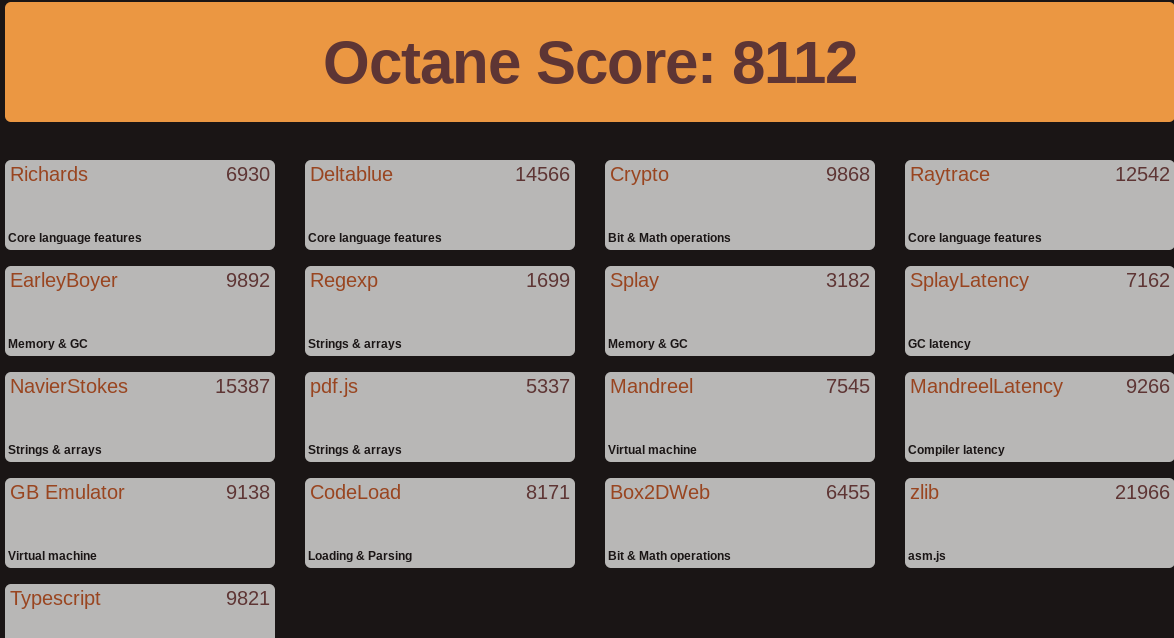 Octane2.0 benchmark on ChromeOS.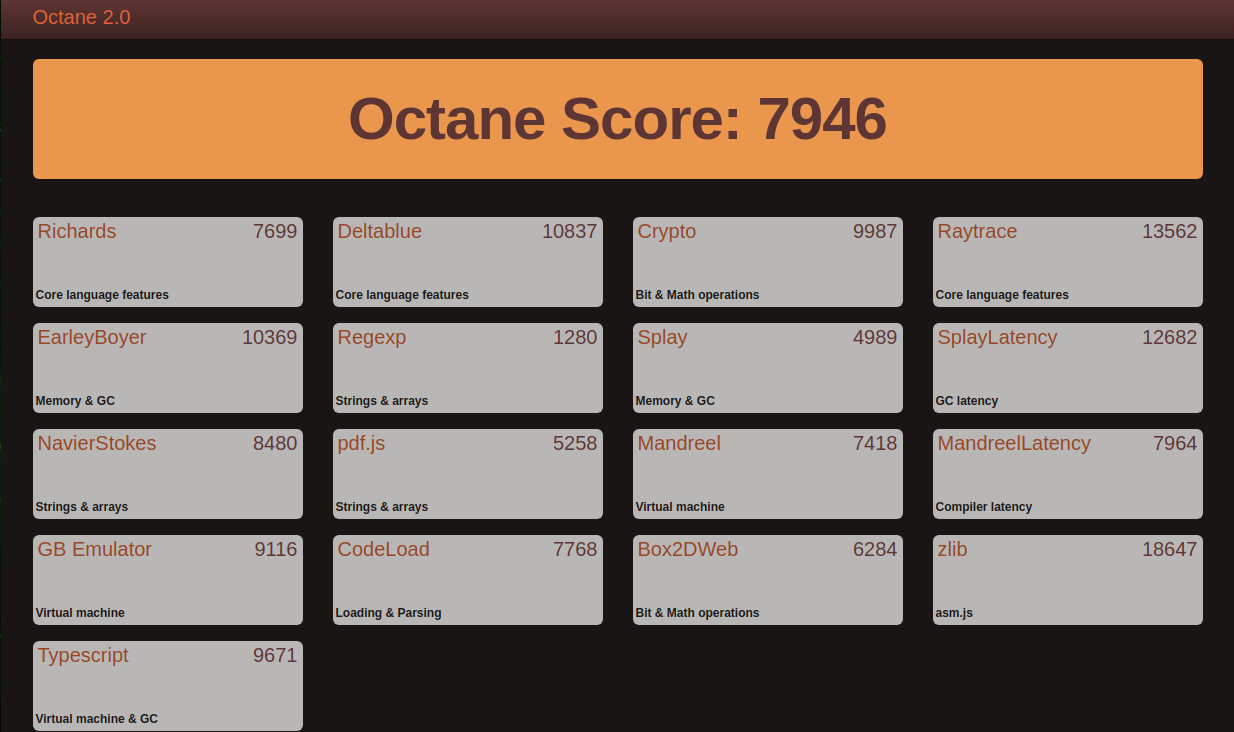 Octane2.0 benchmark on Jetson Nano.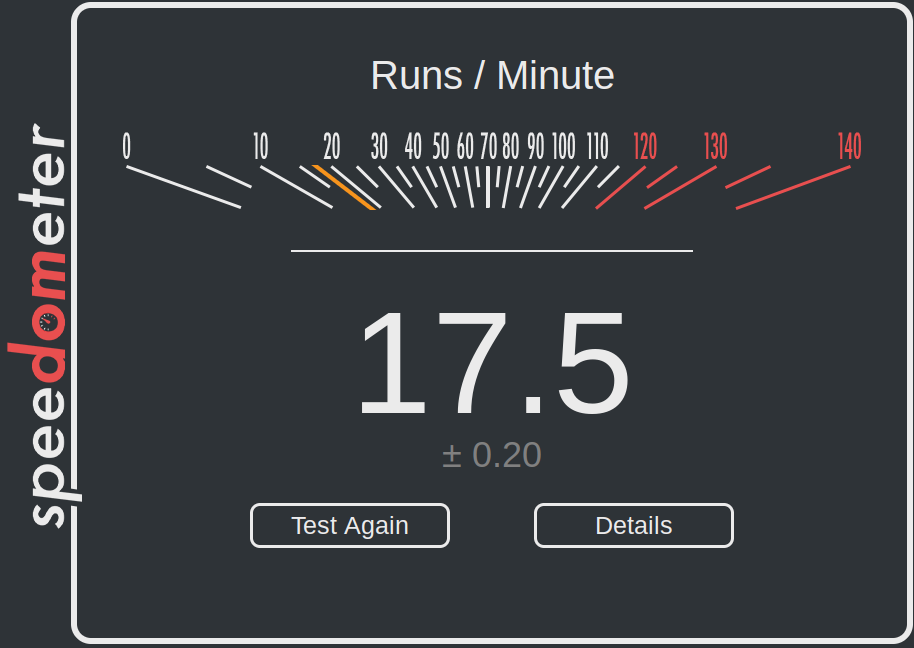 Speedometer benchmark on ChromeOS.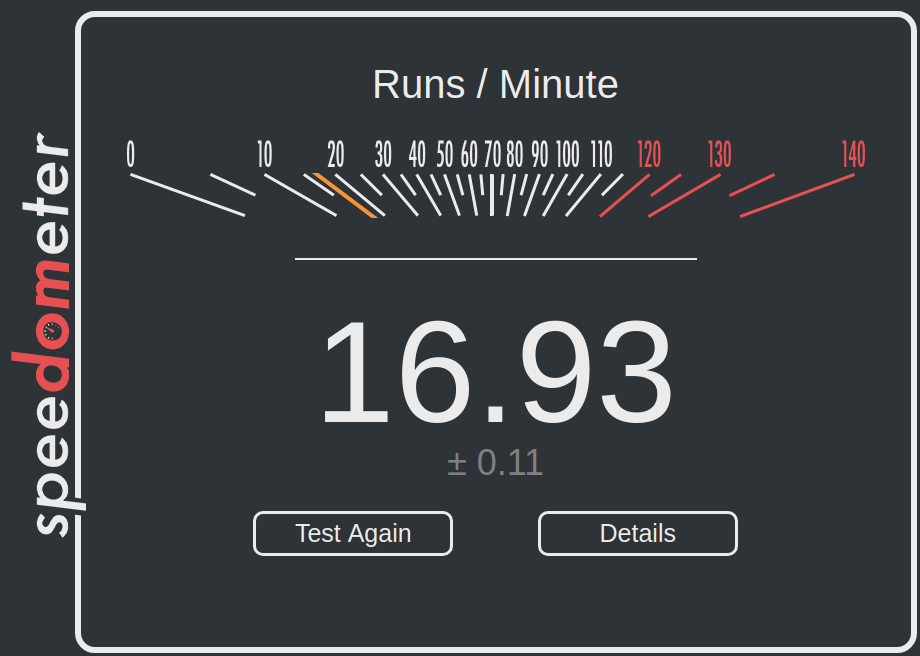 Speedometer benchmark on Jetson Nano.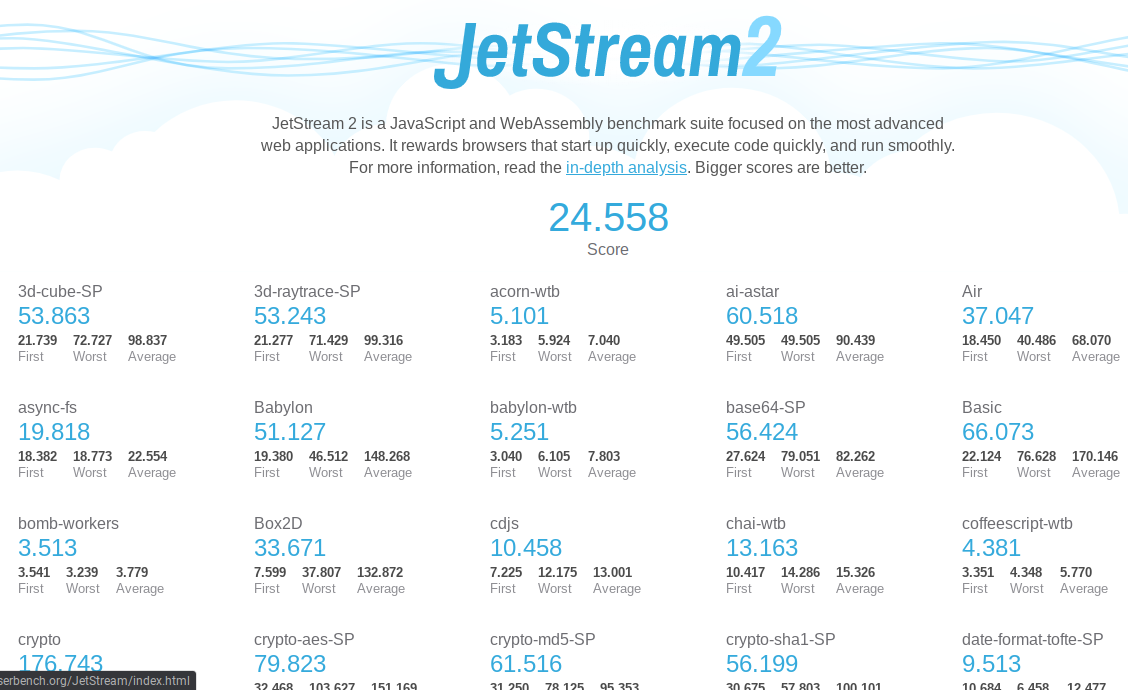 Jetstream2 benchmark on ChromeOS.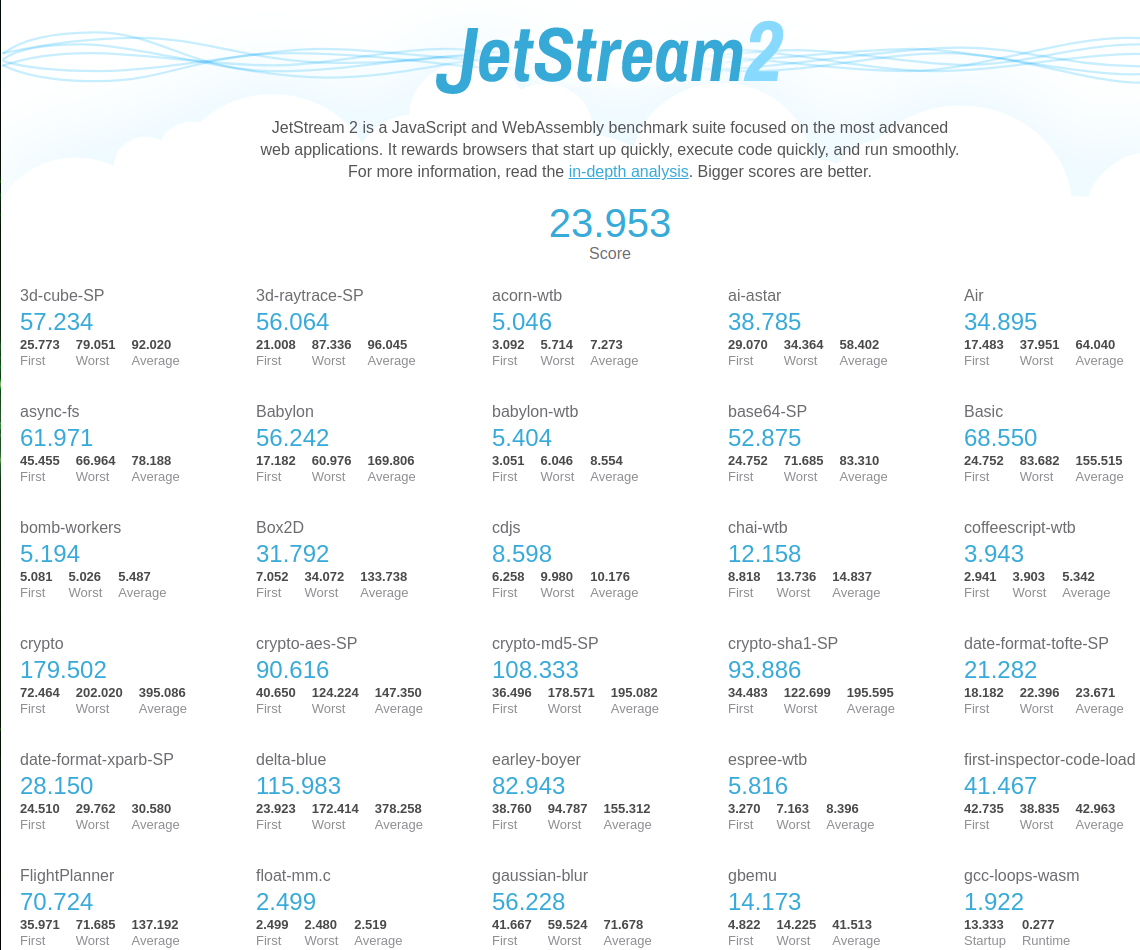 Jetstream2 benchmark on Jetson Nano.
MotionMark benchmark on ChromeOS.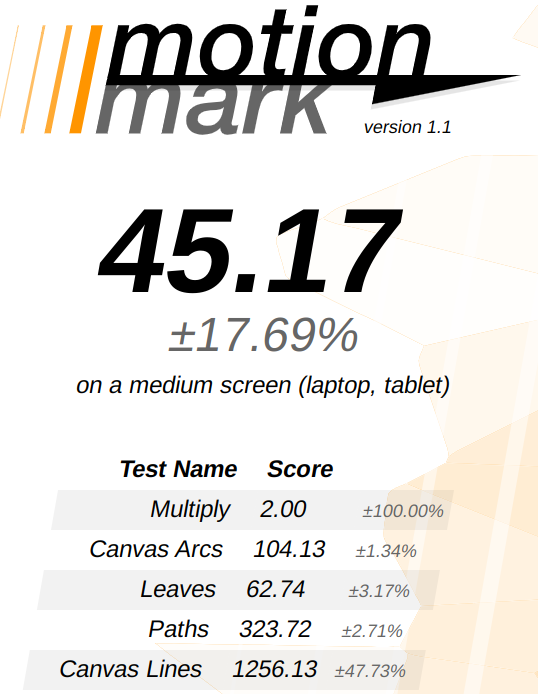 MotionMark benchmark on Jetson Nano.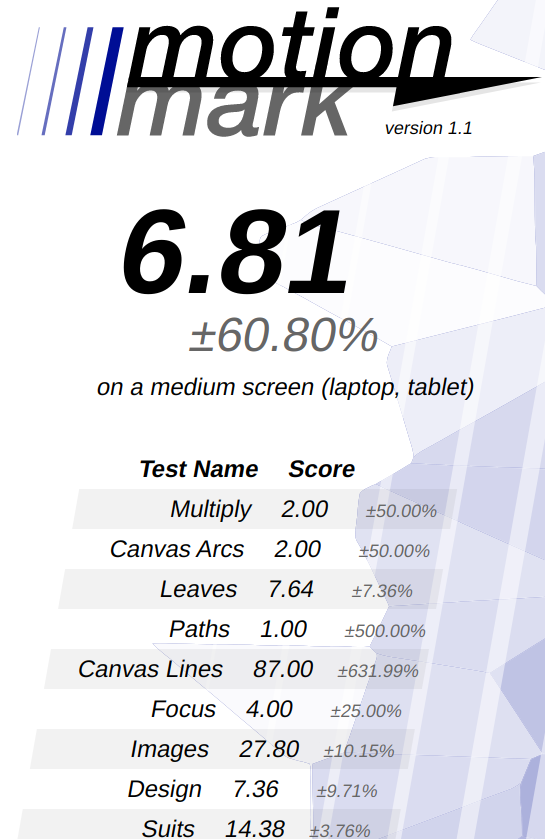 The benchmarks show minor improvements involving CPU and major improvements involving GPU(MotionMark) on my Chromebook which is unfortunate as Nvidia Jetson Nano has a Maxwell GPU which is the best in this class(low-mid end ARM SBC).
The fact that latest Quad Core ARM based SBC with Nvidia GPU scores equal or lesser than 4 year old intel Celeron chipset shows the lack of software optimization on the ARM or extensive optimization by Google for ChromeOS.
The situation is same when it comes to Desktop environment or smoothness in it, Wayland based ChromeOS is way better than any of the Desktop environments I've used on the ARM machines and I've tried quite a few of them. The Desktop experience on the ARM SBCs where so bad that, I've restored to using them only for headless operations.
Conclusion
These are my opinions about Chromebook, ChromeOS from my experience -
If looking for a first laptop/netbook in a budget for a child or old parent and if you have no concerns regarding Google's shenanigans, then a cheap Chromebook would fit well.
Well, what about > $1000 Pixelbook? Lol no. When fully featured Linux laptops or Macbook or Surface laptops are available in that price range, there's no reason to consider a Chromebook; unless you have kink for Chrome browser(You do you, I'm not here to kink shame).
And do you remember that request to speak with the Google Cloud team? I dutifully followed with them, after couple of communications, I sent them a ~$ 1000 USD AWS invoice and asked them to send me equivalent GCP service for each item listed in the invoice to think about migration; they never called back. Dammit Google, stop hiring just good Engineers and start hiring some good marketers, sales personnel too.
Discussion
Discuss this with me on Twitter.
Change Log
28-May-2022: Removed Amazon affiliate links, One less package to be delivered by the poor amazon delivery personnel.
26-July-2021: This Chromebook has 2GB RAM, it was mistakenly mentioned as 4GB in the comparision with Jetson Nano. There are 4GB versions of the same chromebook.
I strive to write low frequency, High quality content on Health, Product Development, Programming, Software Engineering, DIY, Security, Philosophy and other interests. If you would like to receive them in your email inbox then please consider subscribing to my Newsletter.